We are anxiously waiting for the rematches of Round of 16 of Europa League competitions tonight because most of the clashes are still undecided and we are expecting a fierce fight around several stadiums in Europe.
The most electric atmosphere will for sure take place in Istanbul, where Besiktas awaits Olympiacos. Aside from the fact that first match is finished 1-1 when Greek and Turkish club play, circumstances are always very unpleasant. And when we add that Besiktas fans are one of the loudest in Europe, this guarantees a fantastic game.
In a clash between two Belgian clubs, Gent is traveling to Gent with three-goal advantage from the first game, 5-2. The home team will not surrender fo sure, and we are absolutely certain that this game will have a plenty of goals. The home side will attack from the first minute, and visitors are not going to defend.
Celta will travel 3800 kilometers to Krasnodar, with a desire to extend their five games unbeaten streak against Russian teams. They have a lead 2-1 from Vigo, but the home team will have something to say for sure. They are absolute favorites when playing at home, and to be honest they will be tonight, too.
Ajax will try to catch up one goal deficit from Copenhagen, 1-2, and they will have a tough task in front of them because the visitors have a strong defense who concedes a very small number of goals. Then again, Ajax is playing extremely offensive at Amsterdam Arena and no team could be considered favorites when playing there.
Another Belgian team will play tonight, as Anderlecht faces APOEL. The ex-champion of UEFA Cup fought bravely at Cyprus, where much stronger teams were beaten, and they have 1-0 advantage. APOEL is known as a team which scores a low number of goals, but concedes even lesser. On the other hand, Anderlecht is fantastic at their Constantin Vanden Stock. In the last 5 European games here they have scored 16 goals. If they score at leas one tonight, they are half way trough the next phase.
The special of the night will be played in Rome. Lyon will try to resist Roma's fantastic attack, and also try to repeat the excellent performance from the first game when they smashed Roma 4-2. Be sure that we will witness a lot of goals in this game, because both teams don't know how to defend, and they have fantastic strikers, on one side Edin Dzeko and on the other Alexandre Lacazette.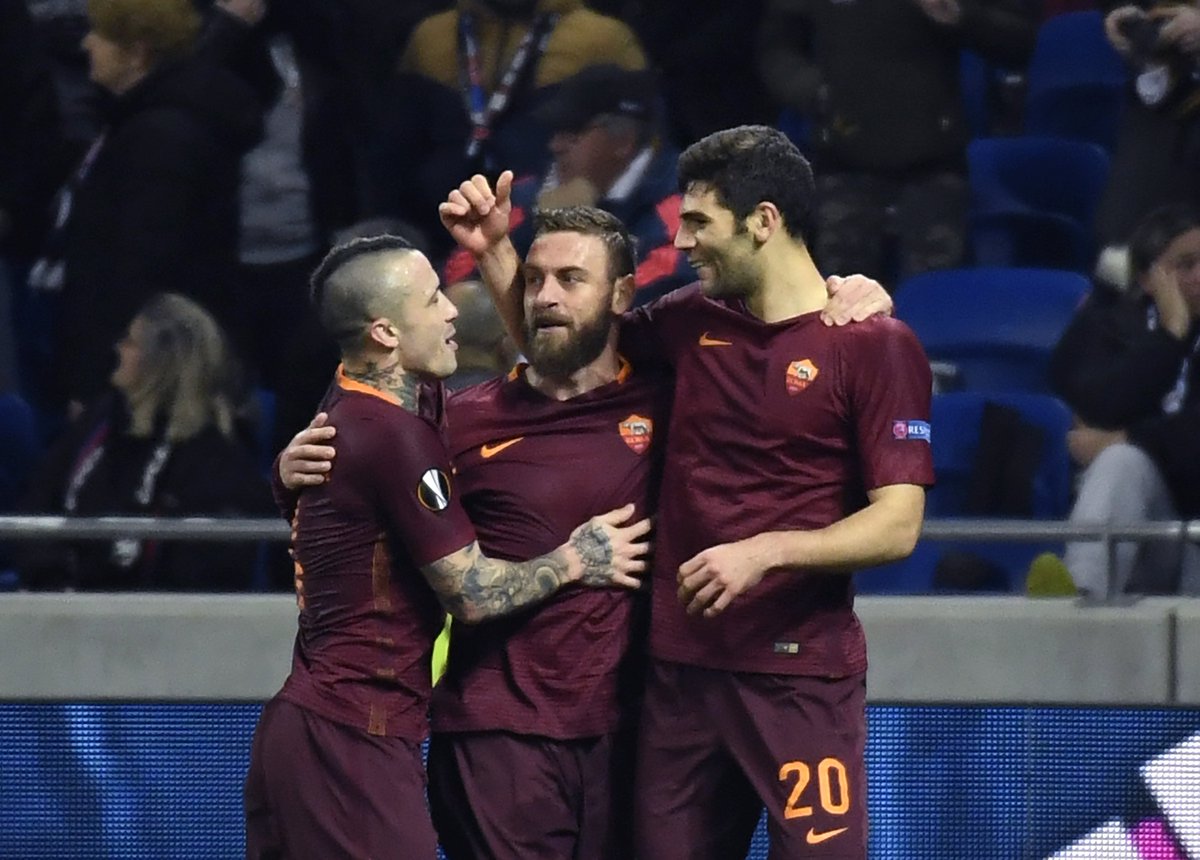 We also have a German derby on the menu. Borussia Monchengladbach is in the hunt for the next phase after they managed to get away without a loss against Schalke 04, 1-1. They were inferior Veltins arena, but in tonight's game, they are going to be a completely opposite team. The visitors from Gelsenkirchen have their plans and they will for sure make this match interesting.
We have the same situation considering the result from the first game, in England, where Manchester United and more than 80 thousand spectators are looking to beat Rostov FC and advance among 8 teams in the Europa League. After the first match when they were looking not to hurt themselves on the Rostov FC awful ground, Man United is going to try ti show the Russian team what it looks like when they play football in the regular conditions.
The race in Europa League is heated up, no more room for mistakes, today we will see wich 8 teams will advance to the next round. The stake is high for the winner, the Champions League, and no calculations will be made tonight.
So prepare for a night of fantastic football, and enjoy !